Important!

Latest Newsletter March 1st, 2018 now available. See Newsletters.
2018 Reunion Packets are available here.
The Air Force Museum in Dayton has Opened Improved Mosquito Exhibit
Read in Special Announcements
Welcome to the Mosquito Association, Inc., Homepage on the Internet. This site is open to members of our Association and interested parties. We should like to introduce you to our organization history, the units involved during the Korean War, our Awards and Decorations and the various facets of our peacetime Mosquito Association. The following units were part of the Mosquito Mission.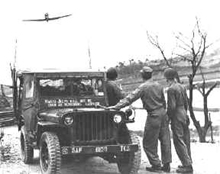 1950 - 1951
6147 Tactical Control Squadron (Air)
Det A of 6132 TCG (Ground, TACP)
6164 TCS of 502 TCG (Ground, TACP)
1951 - 1956
6147 Tactical Control Group
6147 Air Base Squadron
6147 Maintenance & Supply Squadron
6147 Medical Squadron
6148 Tactical Control Squadron (Air)
6149 Tactical Control Squadron (Air)
6150 Tactical Control Squadron (Ground, TACP)
942 Forward Air Control Squadron